Wharton Winter Welcome Weekend Part II: The Orientation
The first day of Welcome Weekend was a whirlwind, beginning with coffee at 9am and ending with small group dinners until 10:30pm. After introducing ourselves in our 70-person Homeroom cluster, we all gathered for a welcome speech by the Dean of Admissions outlining the flexible curriculum and emphasis on leadership development. The highlight of this speech, by far, was this short clip they played from the TV show Suits:
Back in our Homerooms, we had a [previously mentioned] mock course on Marketing taught by Professor Americus Reed (yes, that's a link to his personal website; true to his industry, he marketed himself well). This guy was awesome: energetic, well-spoken, and very engaged with us as an audience; I can't wait to take a class with him! He started out with a case study on attack ads run by Apple vs Windows ("I'm a PC") and whether we thought the Windows response was effective. During this debate I raised my hand to bring up Windows' recent new Internet Explorer ad targeting Millenials ("Child of the 90s"):
AR: Yes, Mary!
Me: Actually it's Mary Patton; MP works too.
AR: Ah ok, Mary Patton, yes!
Me: Windows recently started leveraging its perceived weakness as an older and outdated brand by saying that it's grown up alongside Millenials and emotionally connecting with them through images of Pogs, Tamagotchis, light-up sneakers,etc., things all of us in this room can relate to… Is this more effective than directly responding to attack ads?
I like to establish my zero-Mary-tolerance position early on; apparently some of my future classmates found my correcting the professor quite funny as it was mentioned to me several times throughout the weekend. I hope this means it was effective!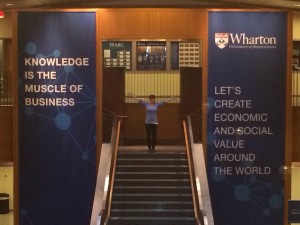 Later in the day we had three slots for various industry session panels (real estate, private equity, healthcare, etc.). I chose to attend entrepreneurship, technology, and the San Francisco campus info session. The entrepreneurship panel consisted of four men (Brazilian e-commerce, online apartment matching services) and one woman (travel accessories and apparel). They discussed how Wharton had helped them incubate their companies by meeting co-founders, brainstorming with classmates and professors to refine their business plans, and using the UPenn law school for legal services. One of them claimed their company received an estimated $25,000/month in various services for free (granted, you're paying a hefty tuition, but at least you're also getting an MBA!). Their main advice to aspiring entrepreneurs: start working on your idea ASAP, start raising money ASAP, use professors as mentors… Oh, and go to class from time to time.