Poem for my Father: Eulogy at my Dad's Funeral

On Friday January 6th, 2017, my father passed away from a sudden and immediate heart attack at the age of 57. We had just spent two weeks over Christmas and New Years on Useppa Island in Florida, our favorite place in the world. My two sisters, their significant others, and my two nieces all flew from Hong Kong, and my third sister came from Chicago. My boyfriend Matt's parents, grandparents, and brother all came for New Years, and then he proposed on New Year's Eve and became my fiancé. We all spent those two weeks boating, fishing, swimming at the beach, playing bocce ball, and spending lots of quality time together. You couldn't have asked for a better holiday altogether. The last time I saw my dad I gave him an extra big hug on the end of our dock before jumping on the boat, and told him, "I can't wait for you and mom to come visit me in San Francisco in just two months!". It still feels like he will just call me and tell me he hasn't left us, and that I'll be seeing him in March.

One week after receiving the news of our dad's death, my sisters and I pulled ourselves together and gave speeches in front of almost 800 people at St. John's Episcopal Church in our hometown of Tampa, Florida. Posting my speech here is one of the many ways I hope to memorialize him. I love you, dad.
————————————————————————————————————————————————
SPEECH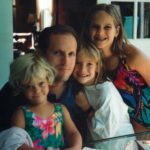 Good afternoon everyone, thank you for coming and being here today. I know many of you dropped everything to drive from New Orleans and all over the south, or to fly from New York and San Francisco, and my dad would be so proud to see each and every one of you today. He'd also want to have a thirty minute conversation with you each to ask about your lives, families, significant others, and work, and tell you every detail of what his daughters are doing, how his wife is, and the fish he most recently caught on Useppa.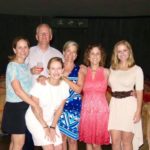 Over the past week as my mom, sisters and I have tried to process what has happened, we've gone through old photos and videos that both make us immensely happy and terribly sad. We came across one video we put together just two years ago for my dad's 55th birthday – in fact, many of you in this room sent us clips reminiscing of funny memories you had with him. The poem I wrote and recorded embodies for me a lot of what I would say to him now, so I've edited and added to it to read to you all today.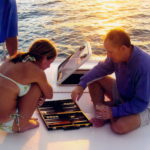 As a quick note, as some of you know, our family nickname for my dad is Dadzo. I believe this came from my sister Elizabeth sometime when we were all in elementary and middle school here at St John's. It's been around quite awhile, so I can't think of any other way to address my father.
POEM
Dearest Dadzo, this year you should be turning 58,
Another party, another mudslide, to celebrate someone so great.
"Make a plan and God laughs", that's what they all say,
"Expect the unexpected", that's another cliché.
But this goes beyond unexpected, it's more than just unfair,
It feels like I should wake up anytime from this worst of worst nightmares.
Mom, Elizabeth, Caroline, Cody, and I can only begin to cope by reflecting,
On our fun times, amazing years, and life lessons you've been projecting.

Although at times it may have seemed we never took your advice,
By quitting stable jobs, moving abroad, and leading unpredictable lives,
You've been more influential than our behavior might suggest,
When I think through all the great life lessons that you've expressed.
"You should always do your best", is what you'd constantly say,
Maybe that's why all your daughters are overly stressed type A's.
We've taken this lesson to heart by pushing ourselves to all extremes,
It's led us to great success and maybe a touch of OCD.
You say, "It's important to stay active, to keep mind and body balanced like a champ",
And despite your unsuccessful attempts to enroll us in tennis camp,
We expressed our athletic prowess in plenty of other ways,
Most notably exhibited by my fashionable rollerblading days.
And so I came to appreciate more than ever without a doubt,
When you would say at the end of each of our phone calls, "Don't forget to keep working out!".

"Education comes first", you always told us when we were young.
"It's the only way to get ahead in life, to be the best you can become".
So we studied hard, learned languages, won awards for academic deeds,
And now look at all the amazing things you've led us to achieve.
But you taught us this lesson primarily by example,
proving success comes from hard work that's substantial.
You told us to consider the needs of others, be compassionate and thoughtful,
Invest in your relationships, remember to stay humble.
In a room full of people, you take time to connect with every person,
in my business school management course we call this a "high level of extroversion".
So we learned to value our friendships, the importance of strong bonds,
Or maybe you were just prepping us to be proper debutantes.
The list goes on and on, the important lessons that you've given,
To allow us to grow up into sophisticated women.
So even though your idea of punishment is buying me a cashmere sweater,
And every two minutes you check each of our cities' weather,
I realize now this is your way of showing us that you care so sincerely,
Enforcing the greatest of all your lessons: "Nothing is more important than family".
You and the little mama have formed quite the impressive team,
Raising four daughters like us is definitely no easy feat.
So I wanted to take a moment to give thanks that's long overdue,
To reflect on why we're so lucky to have had a fabulous dadzo like you.

I'm trying to remember to focus on the good times and years that we had,
To smile when friends tell me, "Wow, you really had the most awesome dad".
But it still seems so unjust when someone with such gusto and pizzazz,
Could be taken from us so unceremoniously, so early, so fast,
When there are still so many things left here for you to do,
When there are yet so many reasons why mom, my sisters and I still need you.
Who will teach your future grandkids how to fish and waterski?
Who will take us to get creepers and play the ring game at Cabbage Key?
Who will tell us, " Oh it isn't cold, jump in, don't be a wimp!"?
When we're still too scared to touch them, who will rebait our shrimp?
How will we know if we're all ready to walk out the door,
Without you to ask us to count off: Daughters # 1, 2, 3, and 4?
Who will be there to talk about us to every stranger, and to brag just a smidge,
"Oh, did I say Caroline went to school in Boston? Well actually, I meant Cambridge".
Who will proudly work the room with mom at Elizabeth's Akilah events?
Who is going to take Tamsyn and Lorraine to win the Useppa Island fishing tournaments?
Who will reassure us that everything is curable by salt water?
Who will stand up at Cody's graduation to yell, "HEY THAT'S MY DAUGHTER!"?
Who will work with mom to push us to go that extra mile,
In just one year from now, who's going to walk me down the aisle?
Dad it seems so unfair, you've been the glue of our family,
It hurts in my gut to know how we're going to miss you so deeply.
But we will try to remain grateful for the many years we did have and so,
We will make sure everything we do, we do in honor of our one and only Dadzo.

We love and miss you so much, dad.