Kickstarter Success: Global Fusion Yoga is a go!

Everyone always says to give your work/studies/personal projects 100% – what about 104%? (My apologies to all you rational mathematics hard-liners out there whose minds just exploded). And that's just what my Kickstarter reached upon completion – 104% of funding with 53 backers!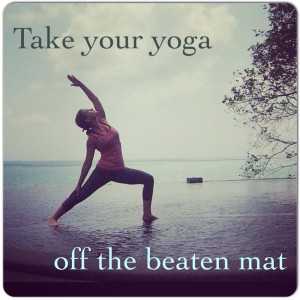 I was blown away by the enthusiasm of family, friends, co-workers, fellow yogis, even strangers. If someone couldn't offer financial support, they shared my project on Facebook, emails, Twitter, posters in local yoga studios. And that's what means the most to me; this project is about sharing my lessons and experiences, and knowing that people are excited gives me a huge confidence boost as I finally embark on this venture.
I couldn't have done it without my parents to house me, Kristen and Dave Henderson to star in my video, Lia to give me taglines, Ryan to donate the entire inventory of Ryan's Tech Shop, Elizabeth/Kristen/Georgina/Kerry/Nicky to brainstorm, Josh Copher to get me through initial production writer's block, and the countless others who helped me plan/research/flesh out the final concept. So thank you for believing in me and Global Fusion Yoga!
But now, the hard work (and fun) really begins! My first stop is the islands of southern Thailand, typically a haven for hardcore yogis (also known for the infamous Full Moon Parties but unfortunately I won't be featuring those!). I'll post photos, publish blogposts, and film class videos along the way, which I'll release as my editing schedule allows. So stay tuned for updates on Global Fusion Yoga, and take your yoga off the beaten mat! (I can't resist, the tagline is too cute, thanks to Lia).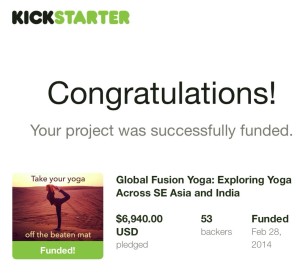 And now, for the numbers, because I'm a huge analytics nerd:
Video plays: 378
Video completion rate: 43.56% (which is extremely high. I attribute this to my attractive actors – Kristen Henderson and Dave Henderson – and badass producers – Josh Copher and the doubly talented Kristen Henderson.)
Bit.ly link clicks: 384 (distributed solely through my personal emails and social media)
Bit.ly link traffic from Facebook: 162 clicks, or 42% of overall traffic
Bit.ly link traffic from my blog: 53 clicks, or 14%
Number of countries reached with my bit.ly link: 30 (United States, Rwanda, Hong Kong, UK, Australia, Spain, Tanzania, Burundi, Turkey, India, Netherlands, Indonesia, Kenya, Belgium, France, Denmark, Germany, Japan, Russia, Thailand, Zambia, Switzerland, China, Egypt, Asia/Pacific Region, Ireland, Swaziland, Uganda, Mexico, and Mozambique)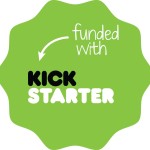 I have lots of Kickstarter advice and best practices, so if you're curious, don't hesitate to email me!