Behind Amazon's Well-Oiled Machine: How the "Everything Store" Ships Everything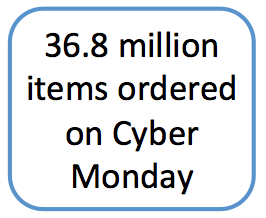 At 1.2 million square feet, the Amazon Fulfillment Center (FC) in Middletown, Delaware is the size of 21 football fields and employs roughly 2,500 full-time employees, swelling to almost 7,000 employees for the holiday season. Codified as PHL-7, it's one of 75 Amazon shipping complexes spread across the US, but the only one in the northeast open to the public. Last Friday the Tech Club at Wharton arranged a tour of the Delaware FC to walk us through a product's lifecycle in the center from when it arrives from a vendor to when it leaves for customer delivery.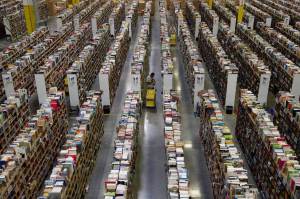 PHL-7 is specifically for "small products", while other centers focus on groceries (Amazon Fresh), products from Zappos (acquired by Amazon for $894.6 million in 2009), returned items, or large products like TVs and fridges. The building is divided into areas for "inbound" and "outbound": the inbound shift begins at 7:00am with deliveries from vendors, while the outbound shift begins at 7:30am with customers' orders. The average item in PHL-7 has a turnover of two days, but of course this depends on the customer demand for that product. A bottle of shampoo may be ordered within one hour of arriving at the FC, but some items stay much longer: a gigantic stuffed teddy bear has been sitting in PHL-7 for over six years!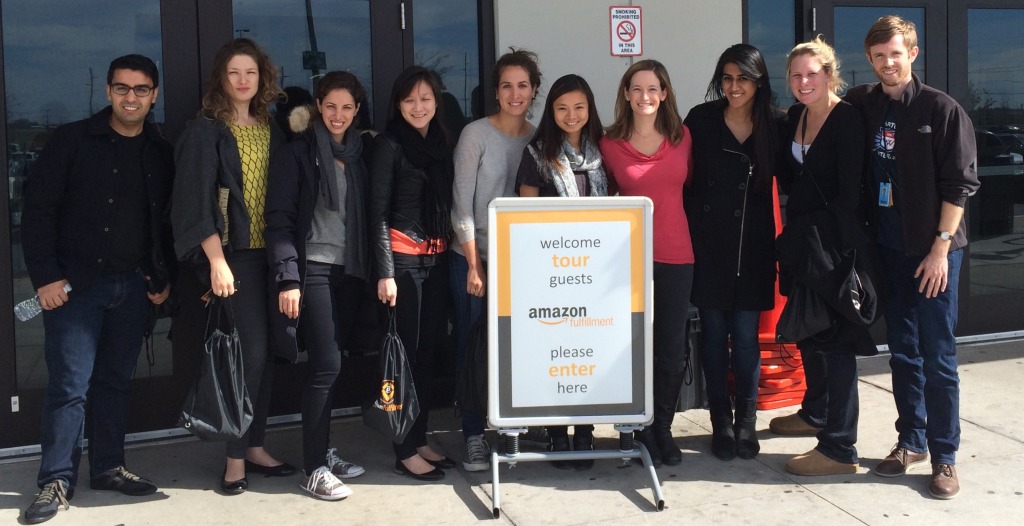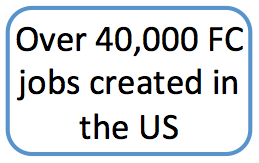 Walking across the facility to begin the tour, the emphasis on procedure and transparency is striking. Whiteboards announce developments like "Recently filled 12k orders in one hour" and "New 3-step ladders placed in stow area". Vending machines stocked with orange vests, yellow wrenches, and gray packing gloves don't accept money but tell workers to "scan your badge" to get an item. We passed through endless corridors of tall cardboard boxes stuffed with toy dolls, silverware, and plastic painting trays and ducked under networks of whizzing conveyors belts before arriving in the "Receive" area, where our journey through an Amazon item's lifecycle began.
THE PROCESS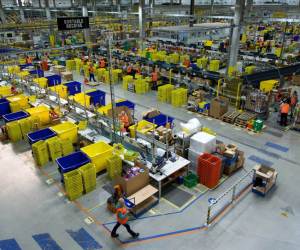 Trucks filled with products arriving from vendors back up to the warehouse to unload and begin the "Receive" stage. Boxes are loaded onto conveyor belts and scanned 360-degrees, registering the vendor ID, weight, dimensions, and order number into the system. Human labor takes over to empty the boxes and scan each individual item, thus beginning its lifecycle through the FC. Products are placed into yellows bin that are also scanned and sent via conveyor belt to their designated "Stow" section. Some products get "prepped" (for example, high value and fragile items are bubble wrapped) but otherwise the products enter "Stow" as-is.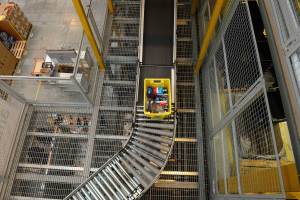 "Stow" is the stage where products are placed on their appropriate shelf to await customers' orders. Yellow bins zoom up from "Receive", where employees are ready to sort individual items into their specified slot. Contrary to what you might think, the FC isn't laid out like a grocery store with items grouped together based on similarity. Instead, Amazon employs a "random stow" system that assigns products across the warehouse based on forecasting of order frequency. This creates diversity across all stow areas and reduces potential for bottlenecks. With 5 million different items in the FC at one time, this makes for some very funny neighbors! It was strange to see toothpaste, screws, and crossword puzzles all in a row.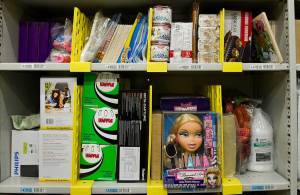 Random stow prevents selection mistakes as well. For example, the system knows not to assign Harry Potter Book #1 in the slot next to Harry Potter Book #2; when an employee dashes into the "Stow" area to begin the "Pick" stage, the chances of grabbing the wrong book are a lot higher when they're right next to each other.
The system also makes sure to abide by certain rules: no heavy objects or knives on the top shelves!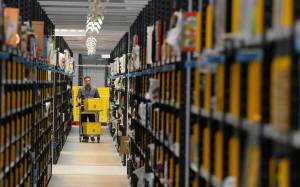 The "Pick" stage is triggered when orders are placed on the website. An employee goes into the stow area, grabs the items from that specific section, and places them into bins.
"Pick" also marks the beginning of the outbound phase, which is governed by Critical Pull Time, or the lead-time needed to make sure products are packaged and ready to go when delivery trucks arrive. If your Amazon Prime order arrived late, it could be because the FC failed to meet this important criteria.
Once the items from that certain section have been picked, they're whizzed away on conveyor belts at 20 mph to enter the "Rebinning" stage.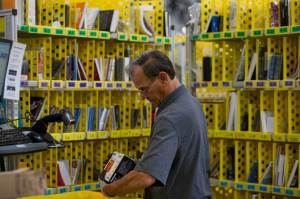 With products coming from different areas of the building, they must be "rebinned" so they can be bundled into one package. This saves on shipping costs and makes sure you receive your sunscreen, inflatable beach ball, and bathing suit all in one box.
Bins filled with picked items zoom out of the stow area and go through a complex diverting system that processes and delivers the bins to different stations, where the multiple products from your order come together for the first time.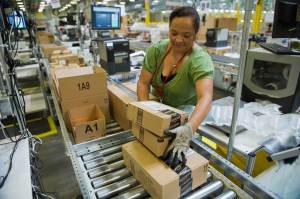 "Pack" is the stage where your "rebinned" items are – can you guess? – packed. According to our guide, this stage of the process is the most impressive to behold, as it's home to the Amazon "box ninjas" that construct boxes from flat cardboard sheets in record times. Each work station is dedicated to a specific box size. Wouldn't it be nice to have some box ninjas around during holiday wrapping season?
At one point Amazon experimented with robots to build boxes, but after testing the technology in several FC's and running into too many issues they canceled the trial and reverted to human labor. I guess robots won't take over every one of our duties, after all!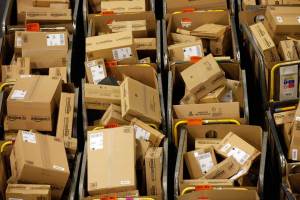 The "Pack" stage is initiated with yellow "rebinned" trays zooming down conveyor belts to their appropriate packing stations. In order to maximize productivity, inspectors check stations before each shift to make sure they're clear and have all the necessary materials. Imagine the traffic jam that would build up if a worker had to stop packing mid-shift to dash across the FC to grab more cardboard boxes!
Once packaged, the boxes are slapped with a barcode and sent down conveyor belts to the "Slam" stations.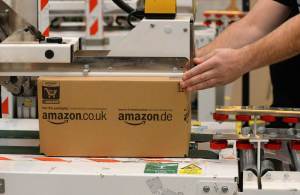 The "Slam" system does a 360-degree scan of the packaged boxes, detecting the customer order ID and printing the appropriate shipping label. In the "Slam" stage, the box has to pass the "kickout" test: boxes are weighed to make sure actual weight matches the estimated weight (based on the products that the system knows should be inside). For example, if a box weighs too much, your order of 1 bottle of lotion may have accidentally been filled with 6 bottles. Once the system identifies the discrepancy, the box gets "kicked out", and your chance to get 5 free bottles of lotion disappears. If your box passes the kickout test, it receives its shipping label and moves down to "Ship".

The prepped and "slammed" boxes travel down conveyor belts (sometimes making the journey down tall, winding slides) to their respective general shipping areas: Philadelphia city, Baltimore, Springfield, etc. Delivery trucks back up to the warehouse to receive their cargo for the day, and your order is on its way to your doorstep!

Make-on-Demand
Our tour was lucky enough to visit a new area introduced at PHL-7 less than one month ago: the Make-on-Demand department, Amazon's very own bookprinting shop. If an order is placed for a book that isn't currently in stock, the book is printed, packaged, and on its way to the customer within one hour.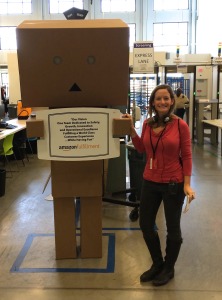 The MOD area, one of only four in the country, is filled with brand-new giant blue machines that continuously churn out freshly printed books. PHL-7 projects that within one month the MOD will be pumping out an impressive 130,000 books per week. As of now MOD prints only soft-cover books, with a special printer using thicker, heavier paper specifically for covers. Consistent oversight is needed to make sure books are printed right-side-up, front-to-back, etc. With only 7 seconds allowed for each quality check throughout the process, there isn't much room for error. No one wants to catch a mistake at the very end and have to send a book all the way back to the beginning.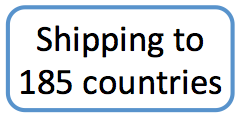 MOD services single orders from customers, but is also useful for independent authors who want to print smaller bulk orders and can't find a publisher to print for them. For example, last week the MOD manager oversaw the printing of a book about top mountain climbing techniques for an author who needed 100 copies for a tradeshow. This makes publishing of smaller amounts of books much more affordable for these niche authors.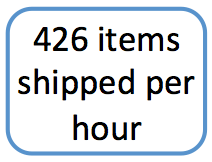 Since MOD books are printed on-demand, Amazon incurs zero storage costs and reduces shipping logistics (the publisher-to-FC shipping stage is eliminated), making MOD more efficient and lucrative for Amazon than ordering from regular publishers.
GOING FORWARD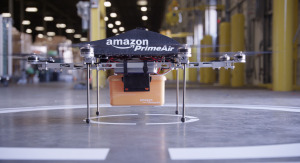 Amazon is constantly looking for ways to minimize costs and innovate the process. Variable fulfillment costs average about $1 per item, while variable shipping costs hover around $4 to $5 an item. Current shipping partners UPS, US Postal Service, and Fedex are running out of capacity, forcing Amazon to look to other solutions such as developing its own ground delivery service (currently being tested through their Amazon Fresh centers). Alternatively, Amazon could take to the air: although plagued by regulatory and technical issues, drones are being developed for the proposed Amazon Prime Air service. If successful, Amazon's dependency on capacity-constrained third parties could come to an end.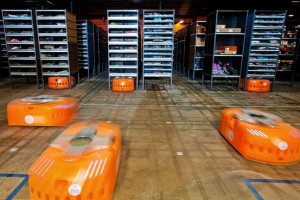 With their 2012 acquisition of robotics company Kiva, Amazon is developing an intelligent shelving system to lower fulfillment costs and maximize efficiency in the stowing and picking stages. This technology, currently being tested at the Newark FC, could achieve 30% more throughput per building, eliminating the need for humans to enter the stow/pick area entirely. From a capital expenses perspective, this innovation means that in the future, two FC's would be able to handle the workload of three.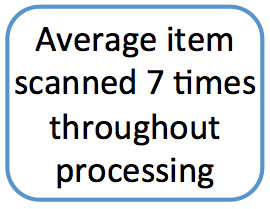 Constant innovation of "inventory placement" strategies helps reduce fulfillment lead time and lower shipping costs by predicting which items to stock at specific FC's. The variability of products within each FC is highly dependent on complex algorithms calculated by Amazon's corporate office using data on seasonality, trends, regional behaviors, etc. The projections for method, location, and delivery of future orders thus dictate how Amazon is shipping its products today.
With e-commerce on the rise and our appetite for instant delivery growing, Amazon is scaling at a rapid pace. Revenues and operating cash flow are steadily increasing, and recent investments such as Amazon Fresh and the nearly $1 billion acquisition of Twitch, an interactive game streaming service, promise to fuel long-term growth. Forward-thinking strategies like these, along with Amazon's persistent push towards innovation, position the company to remain the dominant player in the distribution and online retail industry. Quite literally, I'm sure Amazon will continue to deliver.