The LeadUp: A Retreat for MBA's to Reflect and Reconnect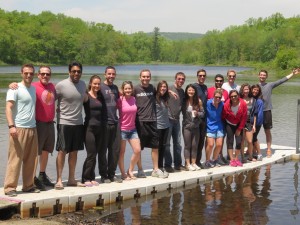 **Originally posted on The Wharton Journal.
School goes by in a flash, so classmate Jenna Gebel and I created the LeadUp to allow 1Y MBAs to reflect and reconnect. Now we're offering this three-day retreat again, October 8-11, for all Penn graduate students.
The first year of business school flies by in a flurry of emotions—it's altogether exhilarating, stressful, social, lonely, stimulating, and exhausting. You undergo a landslide of personal development during those ten months. And then, in the blink of an eye, you're done with finals and moving on to summer internships.
The lessons we learn both in the classroom and about ourselves are arguably the greatest value of the MBA experience, but they aren't effective if we don't take the time to process and internalize them. Yet, when can you consciously reflect upon, process, and reshape your goals during business school? How can you make sure the lessons you learned throughout the year aren't shuffled aside in the hurry to move on to the next step?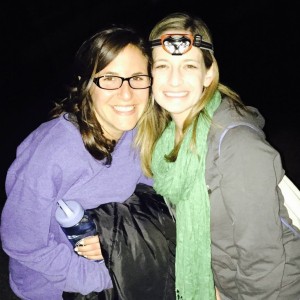 These are the questions Jenna Gebel (WG'16) and I asked ourselves at the beginning of second semester. We had met during Pre-Term and bonded over our mutual love for teaching yoga. Months later, we discussed how much (or maybe just how little) had changed for us since August—whether our goals had shifted, what disappointments we had encountered, what personal discoveries we had made along the way. We felt it was important to set aside time at the end of the year to actively contemplate these things, and we wanted to share this experience with others. And thus the idea for the LeadUp, formerly known as the Wharton Wrap-Up, was born.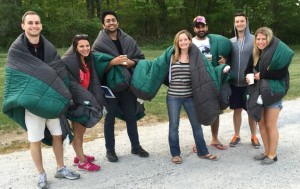 We did what all Wharton students do in this phase: shamelessly leverage every resource the university has to offer. We spoke to the Leadership office, Mindfulness Club, P3 organizers, Adam Grant, Yoga Club, Richard Shell, the Positive Psychology department, and relevant alumni. We arranged speakers and activities, and worked tirelessly to compile programming and assignments that would be thought-provoking and insightful. Once finals ended, we set off for rural New Jersey with 14 amazing individuals who were brave enough to embark on the first ever LeadUp.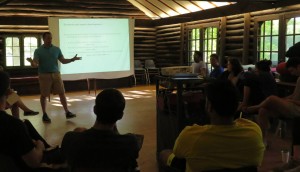 During the three-day trip, we heard from inspirational speakers who helped us reflect on the past year and think about how we could incorporate positive psychology and mindfulness into our internships, our second year at Wharton, and beyond. Wharton alumni Due Quach (WG '06), mindful leadership expert and founder of Calm Clarity, shared her research on the three stages of human brain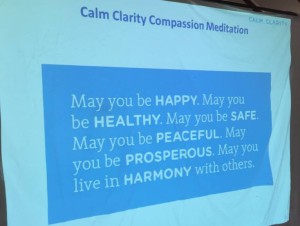 development, and how to control behavior depending on which level we choose to operate from. Dan Lerner, professor of NYU's course "The Science of Happiness" and faculty in Penn's Positive Psychology Department, challenged us to each define what a life of excellence means and how we can develop this excellence in our own lives. Elazar Aslan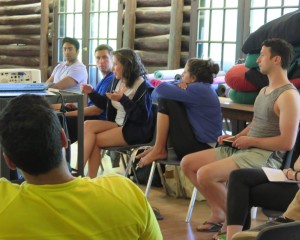 (WG '80), founder of Caterfly Solutions and an executive coach focused on meditation leadership principles, led us in a discussion on how to stay focused, present, and centered under pressure to increase our competitive advantage as leaders. And Cory Muscara, founder of Long Island Center for Mindfulness and meditation expert recently featured on Dr. Oz, offered guided meditations on-demand throughout the entire retreat.
Still, the retreat provided much more than great speakers. From yoga and basketball to ziplining and rock climbing, our days were filled with adventures, laughter, campfires, and—of course—naps and downtime to recover from finals.
The few days we spent together actively reflecting on our first year at Wharton were a great transition from the craziness of finals into our summer internships. We returned to Philadelphia feeling well-rested and energized to take on the summer.
"The LeadUp was an incredible experience and the absolutely perfect way to end my first year at Wharton," said Priya Boyington (WG'16). "It had the ideal balance of informative speakers, meaningful time to reflect, and outdoorsy fun all while set in a beautiful summer camp. There are lots of memorable moments from my first year at Wharton, but I know that these few days will always stay with me as some of the most meaningful."
And while we left the trip with tons of memories and knowledge about mindfulness, we also left with a great new group of friends. Sarah Leggett (WG'16) said, "I met at least ten amazing new people who I hadn't met throughout the year at school. It was such a safe space, and I really felt like I could open up, be vulnerable, and learn more about myself and the kind of life and career I want to have."
"The retreat was the exact experience I was looking for. The talks were incredibly interesting and varied, focusing not just on the "softer" side of personal happiness but on the science and business angles as well. Not only were the other people on the trip a ton of fun, but I also found myself learning from them and their experiences at Penn so far," Yale Zeller (WG'16) said.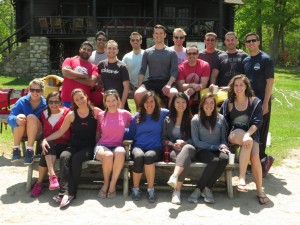 Watch out for the next LeadUp coming up Thursday October 8 – Sunday October 11! In our quest to inspire and enable students to reflect and recharge during the busy fall semester, we're opening the retreat to all Penn graduate schools. If you're interested in more information, check us out at http://theleadup.co/ or email us at davmar@wharton.upenn.edu with any questions. We hope to see you there!